Welcome to Uncle Primo's!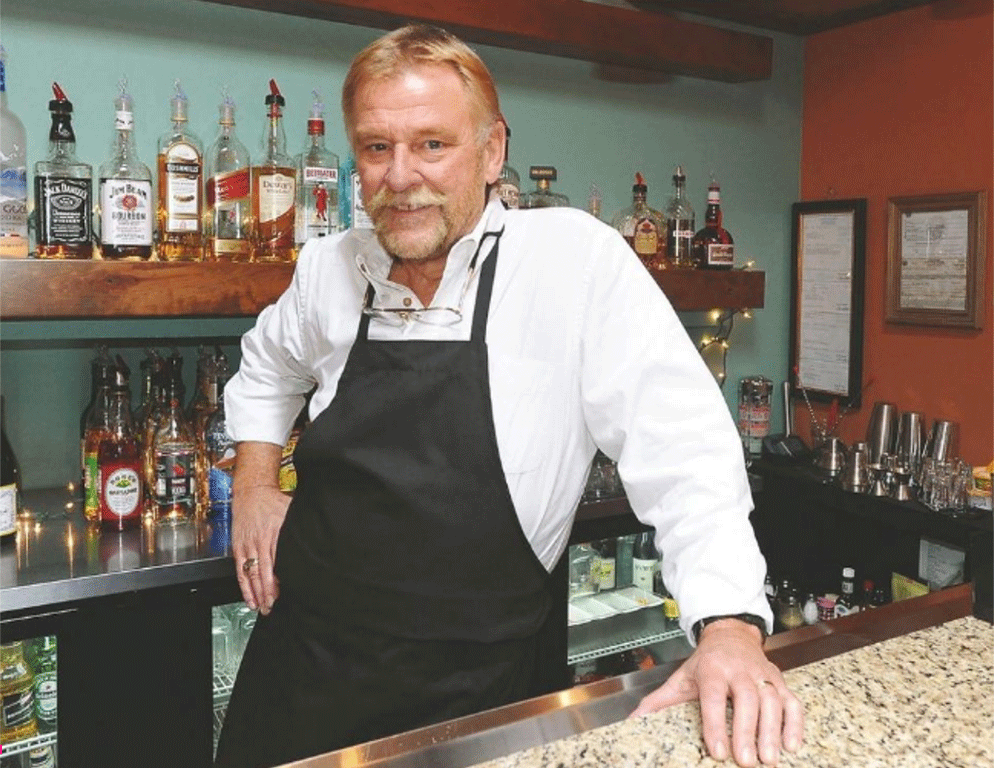 When Bob Heifner talked about bringing a new round of firepower from the kitchen in Uncle Primo's, the veteran chef was serious.
The restaurant installed a 1,100-degree grill for "outstanding steaks, as well as grilled and sauteed seafood," he said. Utilizing the new grill, Uncle Primo's offers blackened tuna, cooked to order; teriyaki salmon; chicken breasts; or filets, strip steaks or sirloins. "We've added a 20-ounce rib eye steak, cooked to perfection," he said. "I finish all of our steaks with my own special recipe grill sauce." That's a far cry from the days when he used a homestyle gas grill outside — regardless of the weather.
"Anybody who has been in the restaurant business knows there is no other feeling like having the house packed and the kitchen rock'n and the patrons are loving your food," Bob said. "So, Uncle Primo's made our mark with good food and good service, at a good value."
Bob took pride in his Italian cooking, adding "I'll put our lasagna up against anybody's."  Another customer favorite is a variety of salads.  "Our featured Primo salad for the table will never change as long as I'm here," Bob said.
We also feature some of Bob's favorite dishes as dinner specials. Those include Gulf Chicken; Cajun-style over-stuffed peppers with shrimp; a Carolina-style 10-ounce pork chop, smothered in a creamy shrimp chutney; Jambalaya; and bourbon-flavored pork chops. Almost all of the desserts are made in-house.  The bar features premium bourbons, scotch, and premium draft beer.
While you are discovering the many captivating historical sites in the New Philadelphia area be sure to stop by Uncle Primo's because we are "Making restaurant history one dish at a time!"
Uncle Primo's Tidbits of Knowledge 
The restaurant, originally a one story home built circa 1880's, was home to a family of 7. 

What is now the second story was the original first floor. The home was raised by the Elmer Kennedy family around 1913. See photos in foyer. 

The restaurant originally had 8 tables and the bar sat 3. 

The bar area was added in 1994 using bricks that Bob and his sons reclaimed. 

The back room of Uncle Primo's was originally an outside deck. Bob would stand with his umbrella in rain or snow and grill on a home grill. An awning was added and later screened in. It became an enclosed dining area in 1995. 

Uncle Primo's suffered an extensive fire in 2011. 

Now we have 22 tables, seating for 8 at the bar and 4 tables on the patio. 

Ownership changed a couple times through the years. Bob purchased it again in 2013 with his wife Deb. In 2015 we were able to blacktop the main parking lot that had always been gravel. 

In February 2019 Bob passed away, but Deb continues to keep the business running. 

Land was purchased and an additional parking lot was established in 2020. 

With Covid 19, we now offer 16 tables and 6 bar seats.
Uncle Primo's is open Tuesday through Thursday from 4 to 9 p.m. Friday & Saturday from 4 to 10 p.m. The restaurant is closed on Sundays and Mondays. Attire is casual, with reservations and walk-in diners welcomed. Group seating or outdoor seating is available. We thank you for visiting our website and we hope you will visit us SOON!
Very good!
Visiting from Alabama, went with wife and mother-in-law, each had different entree, all were excellent. Will eat here again on next visits. Nice place, friendly folks, good food.
Again, SCRUMPTIOUS!!!
The service from the minute you walk in the door to the minute you walk out is topnotch hands down. The drink specials were GREAT, Peach Whiskey Sour and Caramel Apple Cider!!! The salad dressing is delectable and the bread is too, my mouth is watering just typing this. We had the stuffed hot pepper dinner w/ a side a spaghetti and it was spot on and the chicken fett alfredo was wonderful to say the least and I'm a alfredo snob and I'll say it was up to snuff, surpassing easily!! We will be back the next time we're in town.
Love the Staff!
This place is wonderfull I love the staff. But the food so was delicious and my Sandgria was so delicious I had to have a second one 😋 I would give that drink a try if you go there 😁 I was so happy how my crab cakes turned out I wish I had a pic of them to post they just melted in my mouth . Can't wait to go back
Busy at Thursday Lunch
This off-the-beaten-path place was hopping this past Thursday. A big group was gathering but there was plenty of room for other groups plus tables for two. My eggplant parm was great with a small pile of angel hair pasta alongside. My friend enjoyed her crab cake sandwich. House salad and bread was included with lunches. We shared tiramisu–very nice.
My only suggestion–warm bread, please!
Delicious
I always have delicious steaks, seafood, and Italian entrees. My favorites are many Mahi Mahi, filets, homemade ravioli, and lasagna. All very delicious! Their desserts are delicious! Tiramisu is THE BEST EVER!!!
Wonderful service!
Fantastic food! Wonderful service! And an atmosphere that makes you feel like you're eating at your Italian Grandma's house.
ADDRESS
435 Minnich Ave NW, New Philadelphia, OH 44663